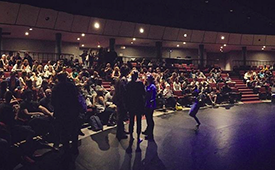 Interested in getting involved in Skidmore Theater?
Join us on Wednesday, January 24th for the following events:
THEATER DEPARTMENT GENERAL MEETING
7pm in the JKB Mainstage
Open to everyone interested in working in the theater and learning about the Department. If this includes you, you are strongly advised to attend this meeting.  You will meet the theater faculty, staff and other students involved in theater.  Departmental requirements, courses being offered, Skidmore Theater Company, and the Lab production program will be explained.  The directors of this semester's productions will discuss their shows and casting requirements. This is where you find out about working in the Department, and place your name on a wait-list for closed theater courses.
*Audition sign-up happens immediately after the General Meeting in the theater lobby*
Get info about Auditions here


AUDITION WORKSHOP
Immediately after audition sign-up in the JKB Black Box
This is an important opportunity for anyone who has never auditioned here before to learn about how our process works. Suggestions and guidelines about appropriate procedures will be discussed.