CRUEL AND UNUSUAL PUNISHMENT
BY: CAITY COOK '18
The story is a disturbing and powerful modern myth. Kaspar Hauser appears on the streets of Nuremberg, Germany, with an anonymous letter addressed to a high-born army captain. The letter asks the captain to take Kaspar in and give him a position in the army. Apparently, the boy wants to be a cavalryman like his father was. The legend tells us that Kaspar had been raised solitary and confined in a darkened cell. He interacted with no one, excluding a few encounters with his captor. Kaspar could write with a limited vocabulary, but his imprisonment had prevented him from learning to speak more than a few phrases.
So Kaspar is a case-study, a rare specimen of a human being raised entirely outside of society. In Peter Handke's Kaspar, he becomes the vehicle for an abstract examination of language and its profound capacity to torture.
Director Aaron Ardisson '16 adds to Handke's experimental script a characteristically disorienting and visually powerful twist. In his production, the character Kaspar is played by six different actors (Shea Leavis '17, Olivia Bagg '19, Grant Landau-Williams '19, Serena Lehman '19, Alex O'Shea '19, and Mariam Vahradyan '18) each embodying him at a specific moment in his development. "Prompter" (Becca Gracey '18, Lindsay Nuckel '17, and Julianna Quiroz '17), originally played as an off-stage voice, is here part of the action, as well. The newly developed character becomes a psychoanalyst of sorts who studies, guides, and manipulates Kaspar's language education. Prompter represents society's influence on the internal world of Kaspar's mind.
The Kaspar actors wear masks, each emblazoned with a scrawled depiction of Kaspar's first, defining sentence. "I want to be a person like somebody else was once." These are also the first words of the play. The masks unify the actors, but also contribute to one of the biggest themes of the show: the complexity of identity and its inextricable ties to language. From the first moment we see the masks, we learn that the words we say about ourselves, the words others say about us, and the words that we use to interact with the world around us will form us quite literally. The costumes, designed by Amanda Corey '17, unify the actors in a similarly theatrical way, with the Prompters and Kaspars all dressed in slight variations on the same outfits.
I felt this sense of theatrical discordance from the moment I entered the theater, where the sound of a distorted voice reading stage directions repeated on a loop. As we sat waiting for the show to begin, we heard the voice cycle through several times, each time ending on the instruction to read the stage directions aloud "over and over." Immediately, we were transported into the warped, unstable world that Kaspar inhabits.
Through Kaspar's dialogue, we see that language is inherently restrictive, sometimes painfully so. Prompter repeatedly makes this point to Kaspar, most clearly in the phrase, "If you cannot change the table, you must change yourself." The rules of language are often nonsensical, but they are rigid this is a table and only a table. The speaker must fit himself into the world around him, or he is rogue, disobedient, and inhuman. We watch this instruction play out on the stage, and we see the slippage and discordance of language itself in every word.
The show looks like a real-time time lapse, with actors swapping in and out as Kaspar at various points in his life. Every movement played out on the stage invokes a sense of a world out-of-joint as Kaspar struggles to mold himself into an accepted member of society. The actors' movements are acrobatic and animalistic; it is a primal type of play. The action provokes an acute sensory overload: a teapot pendulum descends wailing from the ceiling, silver paint is clawed off of a symbolically resonant apple, a red ball is thrown down onto the stage from the catwalk, actors' limbs are tied with ropes and moved like puppets, a sign reading "Goats and Monkeys" slowly slides center stage as the actors prompt the audience to chant the phrase along with them.
The designers' work contributes to this sensory world, too. The set design (Tom Chandler '16) allows us to see that each prop and set piece is a theatrical item and other than itself–a visual representation of the falseness of language, a la René Magritte's Treachery of Images. The sound, created live each night by Gabe Cohn '16, brings a chaotic, screeching, rock-and-roll tension to the piece. The lighting design (Chloe Brush '18) uses shadows to highlight the action of the play and transport us into a world where truth is unclear and even the simplest of objects hold both no meaning and all the meaning in the world. The design elements create dual worlds: the one that we are seeing on stage, and a hidden one underneath it all. Which one should we believe in?
The final scene brings the chaos to a final, beautifully overpowering head. As Leavis takes on the Kaspar role, he explodes into a long monologue, reciting a seemingly endless stream of words into a microphone as the other Kaspars slowly join him on stage. They climb the scaffolding, dance like puppets, rip paper into shreds, rattle a bucket incessantly, and scrape a knife along a plate in slow, screeching circles. Then the final kicker: we see Nuckel, her Prompter costume half removed, emerge onstage with a script, reading into a walkie-talkie that Leavis hears played back in his ear. The falseness and theatricality of language is now indisputable.
Kaspar shows us that language creates us. It gives us the power to name ourselves, to think and to dream. But it also shows us that language is a form of imitation that depends upon total acceptance of societal rules. Language is a tool of conformity. And as such, it takes identity and individuality away from us just as it gives it to us. It gives us both life and death, simultaneously. Language is indeed a torturer, and a cruel and unusual one at that.
***
Caity Cook is a sophomore English major and theater minor. She is a staff writer for the Living Newsletter.
PHOTO GALLERY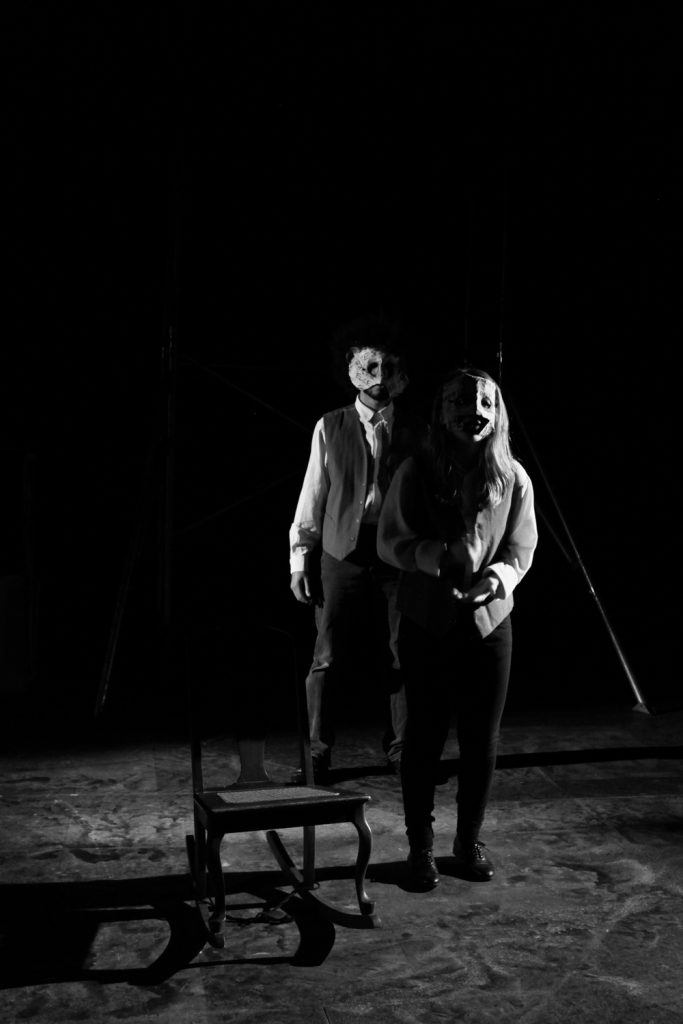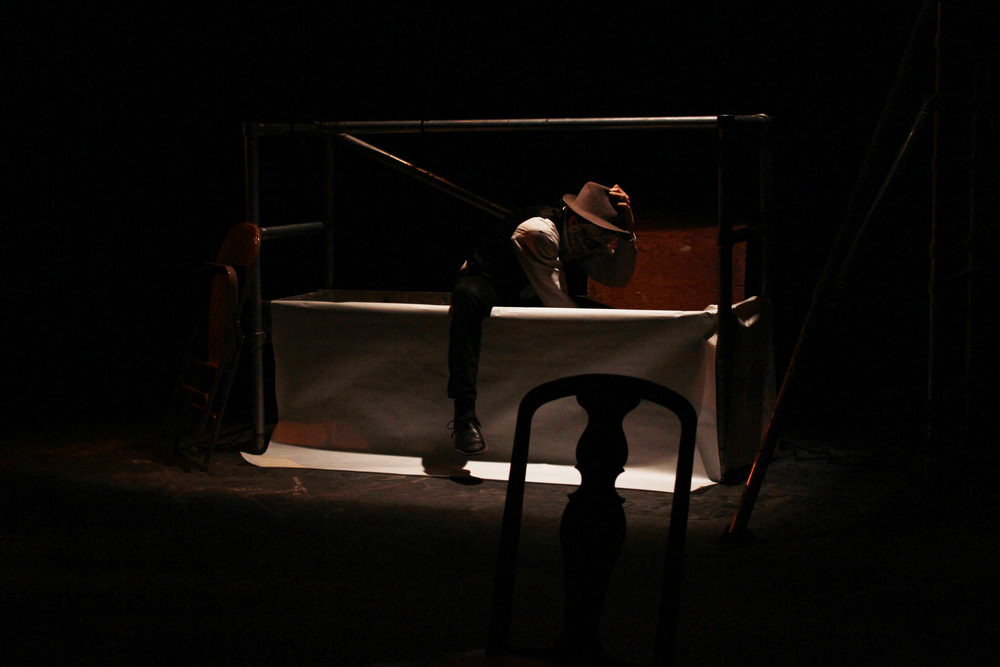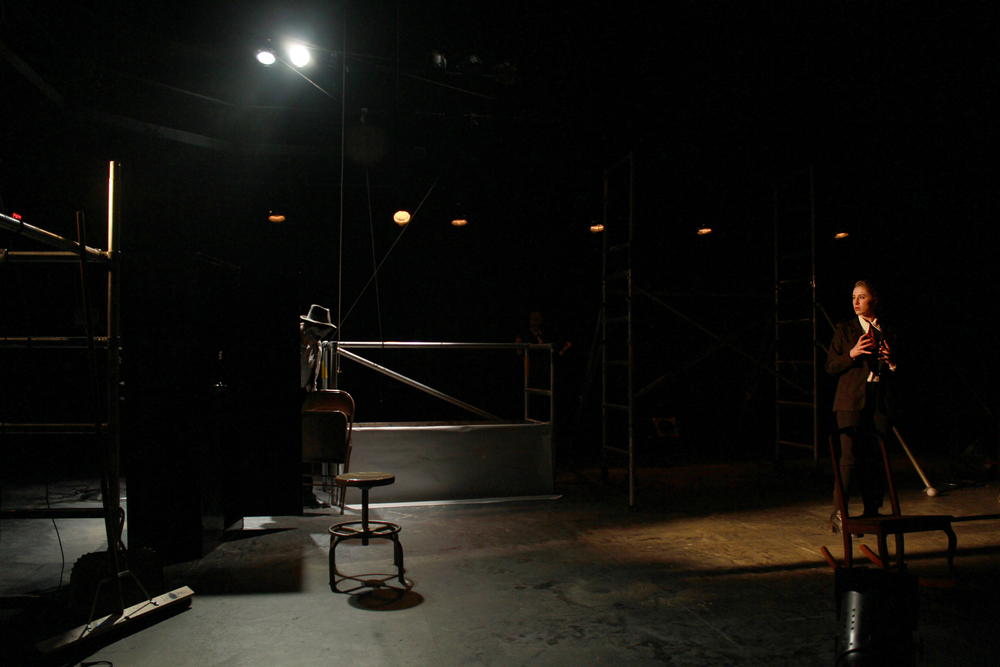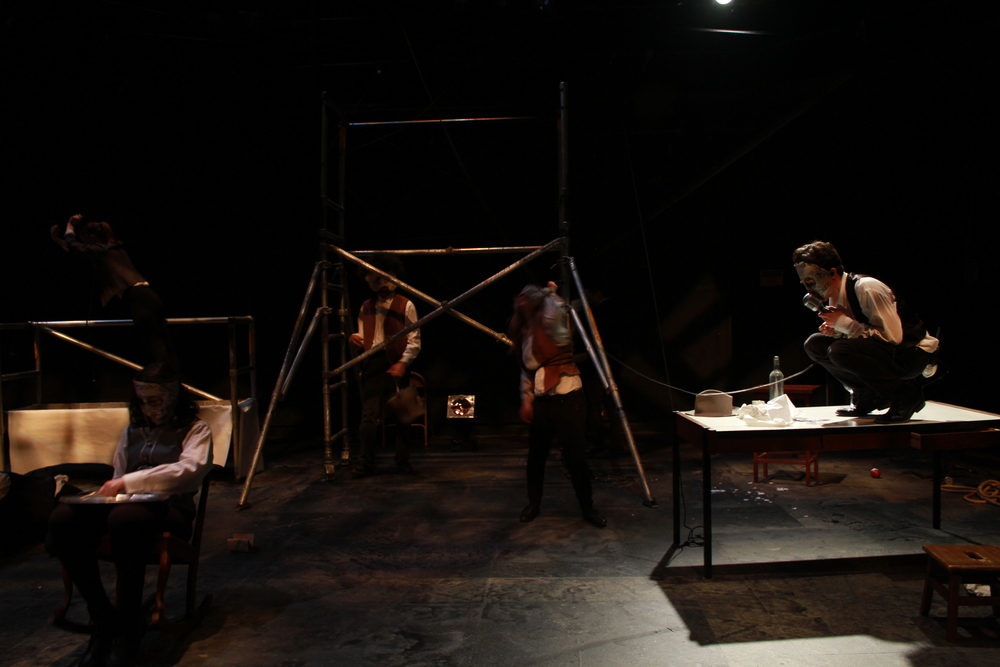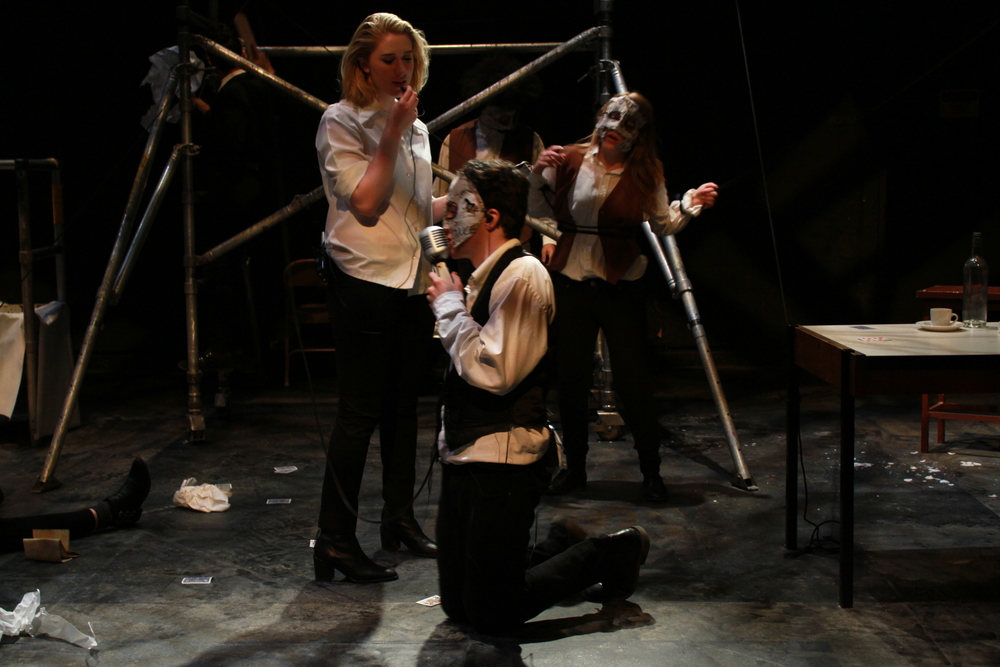 Reflections from the Cast + Crew
Chris Monaco '18 (Stage Manager): It has been an interesting show to work on, especially because it's my first time stage managing. In the beginning, a lot of it was about going off of actor's choices. From a stage manager's perspective, it was changing around a lot. The way the stage looks now and the way things are happening in the show is almost entirely different from what it was in the beginning. So it's been a learning experience working on this show. With something that's so experimental, I get things that I wouldn't have gotten stage managing a "normal" show. It's a nice challenge.
Mariam Vahradyan '18 (Kaspar): Working with Aaron is a very exciting, stimulating experience. Going into a project with Aaron is knowing that you're going to not only be seen as an actor, but also a creative contributor. There are a lot of moments where he will ask us as actors to go figure things out…on one hand there's pressure to bring in something new, but also we know that he is there to polish and refine and redirect–it's often just a matter of doing… And because we are part of creating from its roots, everything feels more personal. So, when we're performing, we know that there is part of our souls in it. We're not being told to follow orders. 
Lindsay Nuckel '17 (Prompter): Aaron is one of the few directors that I've worked with that has complete trust in actors, and relies on actors to do cool things. You're factored into his vision. It makes for a very cool, comfortable space.
Chloe Brush '18 (Lighting Designer): Kaspar was an interesting show to design for because it was different from any other design work I've done…with a linear plot and story arch within the script. This piece was very based on physicality and movements of the actors and so in creating an arch for the lighting my goal was to help pull attention and help focus the audience to certain moments of action and create different worlds for the characters to define their roles in the play and their interactions with Kaspar
Shea Leavis '17 (Kaspar): I feel like there was a day where we hit a wall and we had stopped being productive in the form of adding elements to the show. But then we realized that it's important when trying to present questions to the audience that you have to be asking the right questions of the process. We found a way to adhere to the same questions that the script was asking by finding out in the more specific moments what the broader questions were. We started focusing more on visually and actively showing what those were about. It's making the subtext the supertext, and then making that the subtext all over again.
Gabe Cohn '16 (Sound Performer/Designer): It was important to both Aaron and I that the aural world of Kaspar feel completely organic. That's where the idea of the "live sound" came from–by using DJ software and doing live mixing, we wanted it to feel as though the sound was a living, breathing character that interacts with the actors and changes night-to-night based on their energy. The rest came out of the story of Kaspar Hauser himself…I thought about what the world would sound like to someone who had lived in complete isolation, and decided that almost all sounds and soundtracking would come from looping and heavily manipulating samples from already-existing songs. There's a tea kettle sound effect that's actually a loop of Joni Mitchell played very quickly and repeated. The intense, pounding music that plays over the finale is a loop created from the beginning of "Hit the Road Jack," which was then slowed down and distorted. There's stuff from Fleet Foxes and Paul Simon in there, too. We wanted to take the comfortable and familiar and make it frightening, unfamiliar, and unique. 
For a reflection and interview with director Aaron Ardisson '16, click HERE.
PRODUCTION CREDITS
Written By Peter Handke
Directed by Aaron Ardisson '16
Stage Manager: Christopher Monaco '18
Lighting Design: Chloe Brush '18
Sound Design: Gabe Cohn '16
Scenic Design: Thomas Chandler '16
Costume Design: Amanda Corey '17
Production Team: Julia Guy '19 (Asst. Stage Manager & Light Board Operator), Mackenzie Whiting '16 (Master Electrician), Omi Furst '18 (Wardrobe Supervisor).
Cast: Shea Leavis '17 (Kaspar), Olivia Bagg '19 (Kaspar), Grant Landau-Williams '19 (Kaspar), Serena Lehman '19 (Kaspar), Alex O'Shea (Kaspar), Mariam Vahradyan '18 (Kaspar), Becca Gracey '18 (Prompter), Lindsay Nuckel '17 (Prompter), Julianna Quiroz '17 (Prompter).
RELATED ARTICLES
A Post-Show Discussion With Aaron Ardisson '16
Moment-to-Moment: Kaspar