By Ida Mihok '24
Please Note: This article extensively discusses the play 4:48 PSYCHOSIS, which contains difficult subject matter surrounding mental health, self-harm, and death. Please exercise caution and take care of yourself when choosing whether to engage with this article.
On April 14th and 15th, Skidmore Theater Department presented its second Studio Lab of the spring semester, 4.48 PSYCHOSIS, written by Sarah Kane and directed by Isaac DeMarchi ('23). 4.48 PSYCHOSIS is the last written work by British playwright Sarah Kane, believed to have been completed just days before her death in 1999. The play is a surreal yet deeply grounded expression of living with mental illness, hospitalization, medication, and making sense of one's existence. The show, which was staged in Studio A of the Janet Kinghorn Bernard Theater, depicted four unidentified characters (played by students Maddie Evans ('24), Lucas Falick ('25), Juli Moreira ('23), and Lucrezia Zichichi ('24)) who physically and verbally narrate within the play's abstract structure. The set was sparse, containing a few chairs, a hospital bed, and stark lighting, contributing to the environment of the piece. Lighting and sound design were additionally done by Isaac DeMarchi, and the sound was managed during the production by student Darren Jackson-Wilkins ('25). The audience sat close to the actors, almost enveloped in the scenes they were observing. Considering the subject matter of the play, content disclosures were available for audience members before the start of the show.
I spoke with the director and Skidmore student Isaac DeMarchi ('23) after the final show on the evening of April 15th to gain some insight into the process from his perspective. The following is a brief Q&A, where Isaac reflected on the play, the rehearsal and performance process, and its relation to the Skidmore community.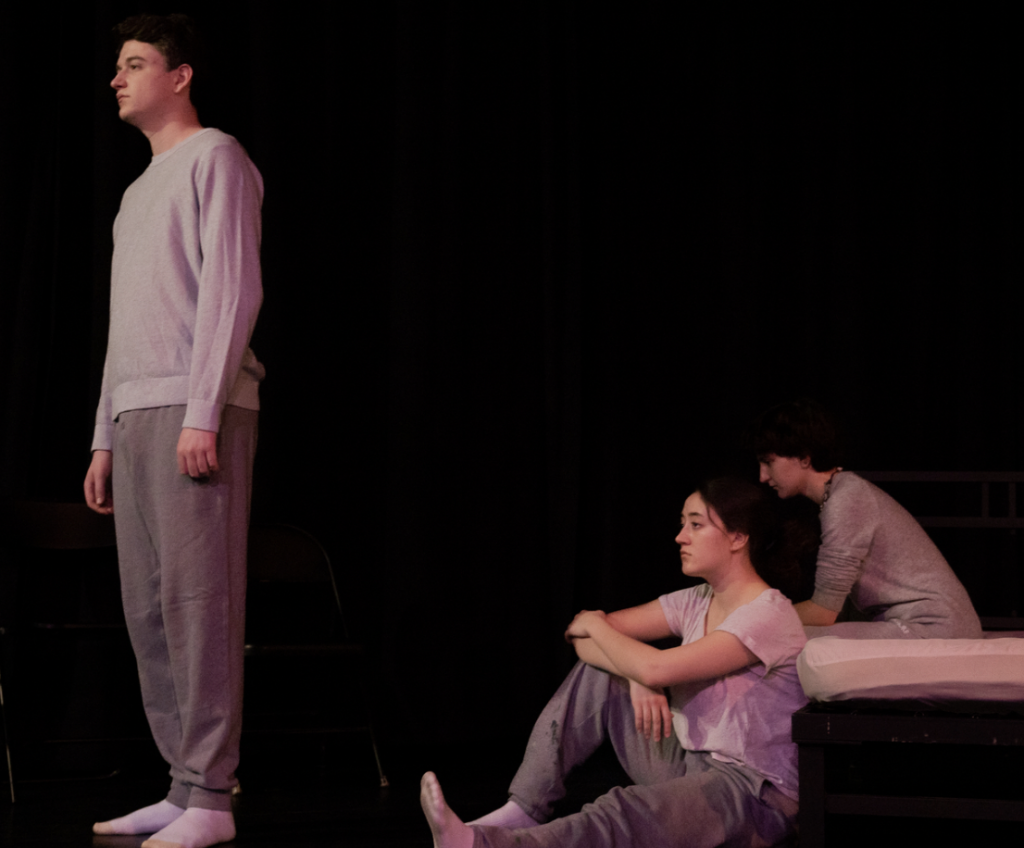 Why 4:48 PSYCHOSIS, and why here and now?
ISAAC: "So originally, I didn't want to direct 4:48. Sarah Kane is my favorite playwright, and her work is so vibrant and epic that I felt as if I was not prepared as a first-time director. What I found so compelling about doing 4:48 at Skidmore and now is conversations about mental health and how they are interpreted. I find that mental health often is treated as a binary, whether you are mentally ill or mentally well. What this play does so beautifully is it respects the experience of mental illness as a part of 'reality'. For those that suffer from mental illness, the sensations they experience can feel endless. This play is so tragic because the narrator spends the whole play crying out to be heard and understood, but their label as 'ill', supposedly placed on them to heal, alienates them further from wellness."
What were some memorable challenges, unexpected things, or successes from the process?
ISAAC: "The goal…for me was to "learn how to direct," which sounds easy on paper. The way this piece is set up without character distinctions forced me to make a lot of choices, and the short process forced me to stick with them. This was not a bad thing, and it helped us be more definitive about choices since going back to the drawing board on lines or characters wasn't really an option. There were times that my designer brain and my director brain worked well together, such as the blackout in between scenes which was based on how scene breaks were structured in the play, and sometimes they worked against each other, like when we decided to cut the projections my friend and I had been collaborating on.
Another challenge of the play was taking care of my, our stage manager Darren's, and the actor's mental health. All the actors were incredibly passionate about telling this story, which made my job so much easier. In the week of the run, we made ten-minute meditations part of our preshow warm-up and made sure to check in about how our days had gone. All these things were relatively small parts of rehearsal, and we only really noticed their impact one time when we forgot to check in, and twenty minutes in we were scratching our heads about why we were all so out of sync."
What were the goals or intentions going into this project, and how might they have changed, or not changed, along the way?
ISAAC: "The tragedy of this piece for me is how suicide is often so preventable if people have the right tools, such as access to secure housing, access to medical treatment, and access to education. Theater also has a problem in how it depicts mental illness on stage, it usually is portrayed in terms of hysteria (Elektra), or a character's suicide is used as a plot device without a true attempt to understand a character's feelings (Romeo and Juliet). 4:48 is so stunning because of its ability to portray mental illness without stereotypes or judgment. The largest challenge of the piece is that while Kane does such an amazing and heart-wrenching job critiquing how people treat the mentally ill and the failures of psychiatry, the solution it offers is death, which is of course very grim and while beautiful, not the message we want audiences to walk away with."
Thank you to Isaac and the cast and crew of 4:48 PSYCHOSIS for their hard work and contribution to this article and Skidmore Theater's Spring 2022 season!
***
Ida Mihok '24 is a staff writer for the Skidmore Theater Living Newsletter