This week, the Skidmore Theater Department staged its first Studio Lab of the Fall 2022 season: Edward Albee's The Sandbox, directed by Liz Cohen ('23). The production was held in Studio A of the Janet Kinghorn Bernard Theater on Monday the 26th and Tuesday the 28th.
The Sandbox is an absurdist play that, while only about ten minutes long in production, vibrantly mixes humor and emotion to explore complex social discourse around aging. On an unknown beach, Mommy and Daddy (played by Nina Renkert '25 and Lucas Gordon-Vera '26 respectively), scope out a good location to bury Grandma (Sophie D'Amore '26). However, Grandma has no intention of going quietly. She screams and throws sand as Mommy and Daddy forcibly urge her into the sandbox, cleverly represented in this production by a large circular tub filled with scraps of paper. A Young Man (John Harrington '24) does aerobics nearby, seemingly unfazed by Grandma's cries.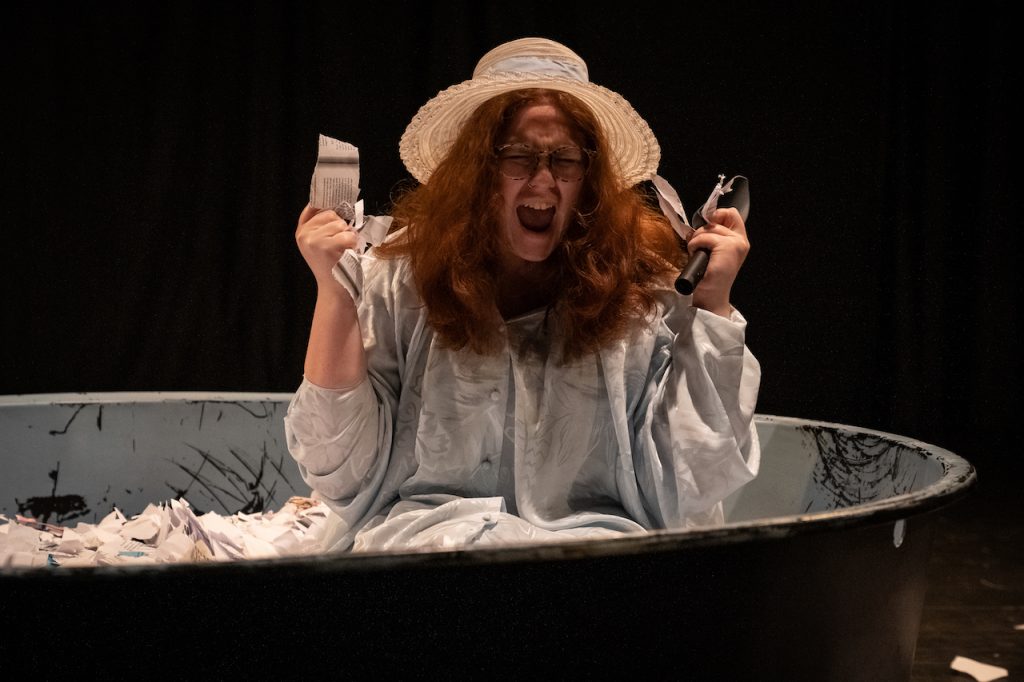 As Mommy and Daddy wait for her to pass away, Grandma confides in the audience, making eye contact with each one as she laments her fate. She also tries to engage in conversation with The Young Man, who reveals himself to be simply an actor, and the pianist nearby (Elliot Bamford '26), who Mommy instructed to play for the event. The lights shift as night closes in, leaving Grandma to go through this ordeal alone, even as Mommy cries and Grandma insists that she is not ready to go. When morning breaks, Mommy and Daddy leave Grandma in the sandbox, expressing a need to move on. Grandma, now unable to move, is visited again by The Young Man, or rather, the angel of death.
Regarding her directing debut and approach to the show, Liz Cohen ('23) expressed that she "wanted to make sure it was fun and that [the cast and crew] could all learn something from it". Studio Labs typically have a short rehearsal period, with The Sandbox only having two weeks, but Liz said that it was "a good amount of time for us to think about the play", have "a lot of really good talks" and build a community with "nice short fun rehearsals".
The Sandbox is darkly comedic in a way that makes you laugh, but then think about why you are laughing. While Liz and the cast did play into the hilarious aspects of rehearsal and production, the play has a clear message about cultural practices around aging. "The conversations we had were dark…like talking about how we treat elderly people and the such", Liz explained after the show, but that contrast is exactly what drew her to The Sandbox in the first place. "I wanted to do something kinda dark and absurd, and I know that this one was a little funnier than maybe, um, dark", Liz observed, "but…I think [with] a lot of studio labs, people walk away and they're like "I was so moved by that" and I was like well, that could happen, but what if I just like did like a little silly one to start off the year?"
Regardless of their ultimate takeaways, be that tragic or comedic, everyone left with a smile on their face and something engaging to think about. For everyone involved, cast, crew, and audience, it was certainly a deadly fun time.
Special thanks to the technical crew of The Sandbox: stage manager Isadora Zucker '25, lighting designer Chavon Patterson '24, sound designer Dylan Salinger '24, and musician Elliot Bamford '26.
Production Photos by Coltrane Cho ('24).