A Place In This World
By: ZACHARY COHN '16
The familiar red curtain of the JKB thrust stage theater descends behind two chairs and a blazing ghost light as the Friday company meeting begins. Professor Opitz, chair of the department, delivers an introduction. A crowd of murmurs dissipates as a man steps forward, commanding attention. OBIE Award-winning actor John Douglas Thompson, a man I have seen before in the persons of Louis Armstrong and a 12th century Scythian warlord, and whom has performed numerous times on Broadway opposite the likes of Denzel Washington, starts to talk about who he is.
"Who he is" is one of the most renowned classical actors in the country; a 2012 profile in The New Yorker cites Shakespeare scholar James Shapiro, who regards Thompson as "the best American actor in Shakespeare, hands down." Thompson has played Othello "six or seven times," by his own recollection, as well as Richard III, Macbeth, and, in a grand production at NYC's Theatre for a New Audience last winter, Christopher Marlowe's Tamburlaine. He appears regularly at Shakespeare and Company in Lenox, MA, starring as pioneering 19th century Black Shakespeare actor Ira Aldridge in their recent production of Lolita Chakrabarti's play Red Velvet. The character of Aldridge is well-known to many in the audience, particularly those members of Professor Eunice Ferreira's Black Theater course.  Professor Ferreira, who invited Thompson, says that she organized the event as a means of "supplementing the Black Theater course and enriching the entire department."
Anyone who has had the fortune to see Thompson perform knows his forceful stage presence, his classical stature, and his unmistakable gravelly baritone. Even out of character, these qualities pervade his way of being and speaking, though they give the impression here of a kindly, stern uncle rather than a ruthless king.
He begins by speaking about his own surprising love affair with theater, which almost began as an actual love affair. He had been a corporate worker for years, having earned a Business and Economics degree from LeMoyne College. One evening, stood up by a date, he went alone to see a play—August Wilson's masterpiece Joe Turner's Come and Gone. "One of the things that really caught me was that I was actually looking at all these characters on this stage, in this play by August Wilson, and all these people who looked just like me," Thompson says, "These were African-American actors, telling an African-American story. And that I had never seen." He continues: "I remember saying very pointedly to myself, 'God, if you are in this room with me now, make me an actor. Teach me how to do what I'm watching, because it's so profound to me.'" He goes on to recount his first audition, which was for an adaptation of Hamlet set in Sierra Leone. He speaks to the nerves of performing in front of everyone at the audition—and managing to land the lead role. The rest of his story includes tales of employment and, notably, unemployment.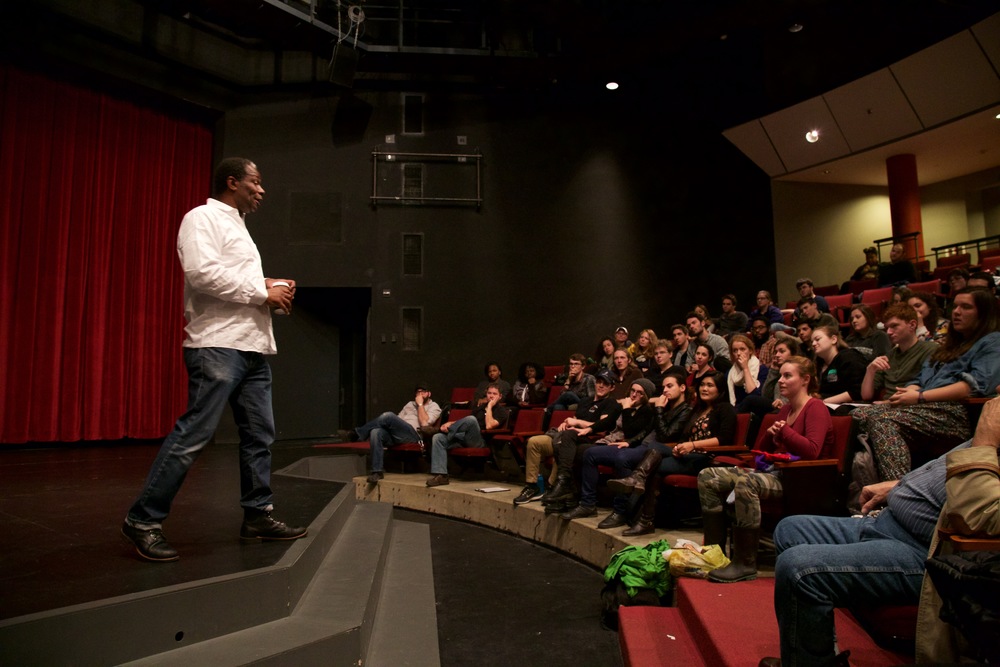 Ashley Saiwa '16, a student in Professor Ferreira's Black Theater course, asks Thompson if he has a different way of acting to portray black characters. He responds, "I've always thought that there is a universality that plays actually show us. I've got in the business because in a way, it's about my humanity, which I felt I could share with the rest of the world. I didn't feel I was that different, as a performer…at the core of it is universality." No matter whether he plays an assigned black character or a non-assigned black character, he thinks "acting is acting—it's just how deep you can go with your character."
Brandon Bogle '16 asks him if it was difficult finding roles as a black man early on. Thompson replies that, due to his strong love for Shakespeare, he was seeing a lot of Shakespeare plays, and "didn't see anybody who looked like [him] up on that stage, doing that kind of work…This is what I want to do, but if I can't see myself represented, it's really hard." He elaborates: "I mean, part of my message as an actor is political, in the sense that I want people, on one level, to come and see me and say'I saw this guy doing Hamlet or Richard III, and yeah he happened to be a black actor,' and I want black people to see me do that, so they know they have a place in this world of classical acting."
He garners rousing applause for that answer, and before he leaves the stage is presented by red velvet whoopee pies homemade by Professor Yvonne Perry.
Following his public talk, Thompson moves from the mainstage to an upstairs studio to give a more intimate master class in acting. Student monologues include those from Shakespearean roles such as Richard III's Queen Margaret (Rigel Harris '16) and Edward IV (Woodrow Proctor '16), Othello's Iago (Brandon Bogle '16), and Titus Andronicus's Tamora (Evy Yergan '16).  Thompson pushes and pulls—sometimes literally, as when we all gather in a circle and buffet today's Edward IV (Proctor), whose thoughts in the speech are buffeting him with similar force.
I slip out at the end feeling revived and uplifted. To see John Douglas Thompson onstage is a privilege in itself; to hear him speak his own story, to see him work, is to understand a little about what makes greatness. Though Thompson prefers dramatic roles to comedic ones, I don't think he'd mind me recalling Twelfth Night's Malvolio: if some are born great, some achieve greatness, and some have greatness thrust upon them, John Douglas Thompson has surely achieved his greatness. It is a singular honor to witness it—no character needed.
The talk with John Douglas Thompson was organized by Professor Eunice Ferreira on behalf of her Black Theater course, in partnership with the Theater Department and supported in part by the Black Faculty Staff Group and UJIMA, a student-run African/African-American/Caribbean-American cultural awareness club.