by Emily Zeller '22
This past weekend (February 19-20) Skidmore welcomed writer, actor, comedian, and Second City veteran, Patrick Rowland. He gave a presentation to the entire Theater Company and led a two-day comedy workshop, introducing students to the form and joy of improv comedy.
The first day of the workshop consisted of in-depth conversations about everyone's background with improv, as well as introduction games to get all of the participants familiar with one another. One of my favorite games was called "making a product." We began the exercise by asking the audience for suggestions of inanimate objects, colors, functions of the product, a jingle, and a celebrity host. After every suggestion I, as the host, would repeat the suggestions from each category that stood out, slowly piecing together the product as I went along. This game helped me to enhance my active listening skills, something Patrick emphasized as one of the most important elements of improv training. He also taught us a game called "three-line improv," which highlighted pace and attention to detail, as well as inflection and intention within each short scene. We also explored object permanence as a way to add levels to a scene. We studied the weight of household objects and the exact movements within casual gestures to create a fuller world for our improv to live in.
After short-form improv was taught and developed, Patrick introduced long-form scenes. He emphasized how important developing clear characters can be when entering a long-form improv scene. If you know your character, you can make strong choices throughout the scene. Physicality and attitude were two aspects of creating a character that Patrick pointed out as particularly important. Once we had made these choices in our heads, a suggestion was given and we entered the scene.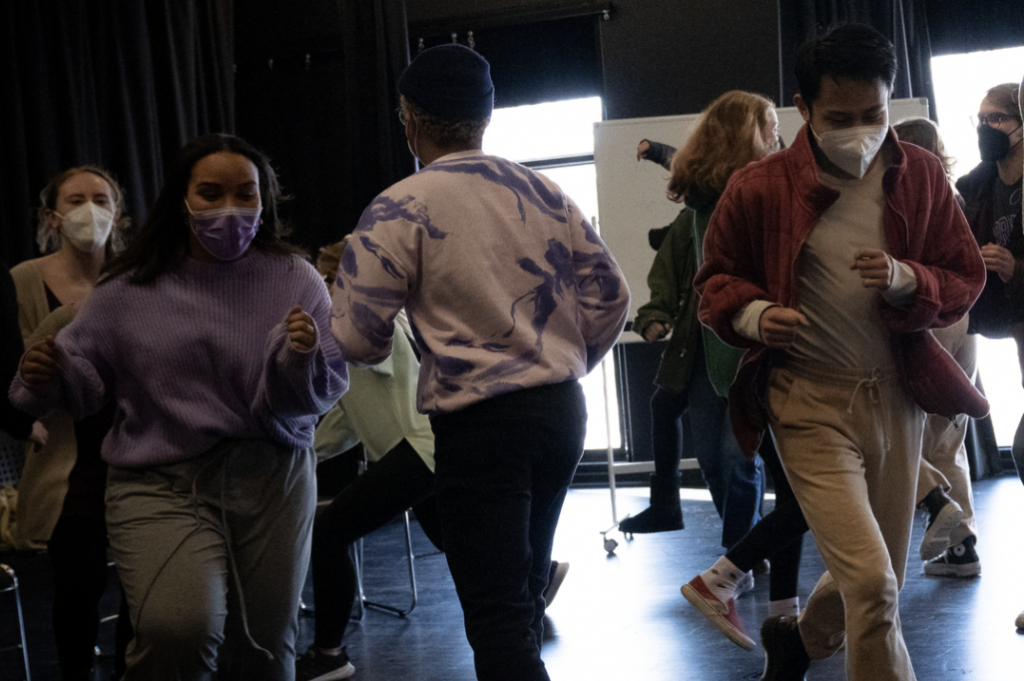 Once the second day of the workshop began, everyone involved was already steeped in the rhythm Patrick had so expertly taught us so we jumped right in. He immediately split us into two groups and gave us the opportunity to perform twenty-minute improv sets. One person from each group would deliver a monologue derived from a word suggestion and explain why the word resonated with them. Another team member would then take keywords from their group member's monologue and write them down on a whiteboard, creating inspiration for the rest of the performance. Then, scenes were created using the words listed. These scenes would play out in long-form, and along the way, we added "sweep edit" endings, where one member of the group would cut off/end the scene to make the set more cohesive.
The energy created in the Studio this past weekend was outstanding, and I could not be more grateful for the work I was able to do. Patrick's teaching not only enhanced the ability of the individual actor but also emphasized building each other up for group success. This was a fresh new way to hone my comedy skills while keeping alive what I've learned throughout my four years at Skidmore.
Five stars!!!!
***
Emily Zeller '22 is a staff writer for the Skidmore Theater Living Newsletter