Mainstage
Radium Girls
D.W. Gregory
Rebecca Marzalek-Kelly
In 1926, radium was a miracle cure, Madame Curie an international celebrity, and luminous watches the latest rage—until the girls who painted them began to fall ill with a mysterious disease. Inspired by a true story, Radium Girls traces the efforts of Grace Fryer, a dial painter, as she fights for her day in court. Her chief adversary is her former employer, Arthur Roeder, an idealistic man who cannot bring himself to believe that the same element that shrinks tumors could have anything to do with the terrifying rash of illnesses among his employees. As the case goes on, however, Grace finds herself battling not just with the U.S. Radium Corporation, but with her own family and friends, who fear that her campaign for justice will backfire. A historic moment that is often forgotten, Marzalek-Kelly's glamorous and glowing production draws attention to the women of this moment.
Written with warmth and humor, Radium Girls is a fast-moving, highly theatrical ensemble piece. Called a "powerful" and "engrossing" drama by critics, Radium Girls offers a wry, unflinching look at the peculiarly American obsessions with health, wealth, and the commercialization of science.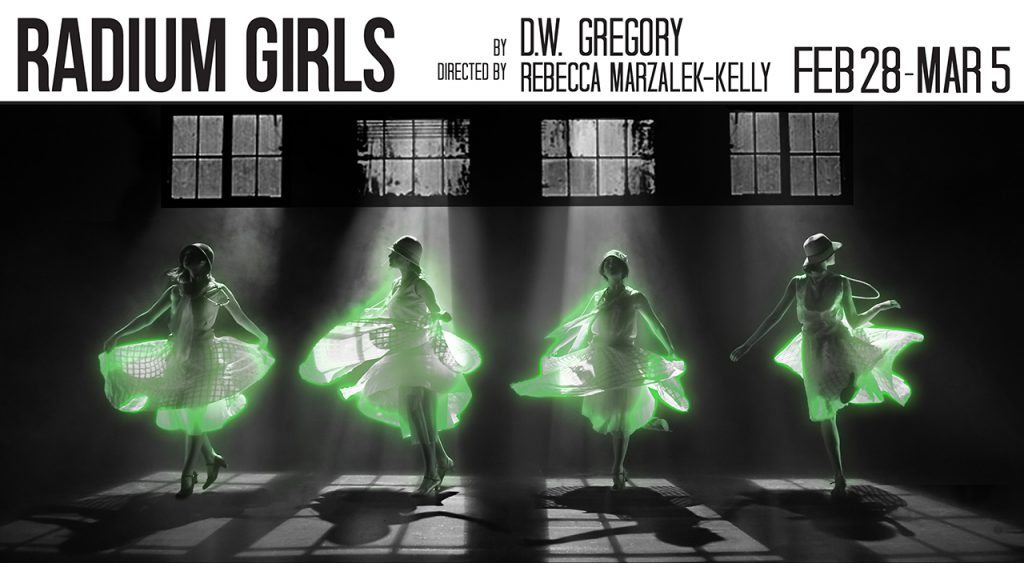 Produced by special arrangement with THE DRAMATIC PUBLISHING COMPANY of Woodstock, Illinois
Production Info
Directed by Rebecca Marzalek-Kelly
Scenic: Garret E. Wilson
Lighting: Jared Klein
Costumes: Patty Pawliczak
Sound: August Sylvester
Props: Jessie Blackman
Dramaturg: Coco McNeil
Assistant Directors: Eliza Martin and Hanna Yurfest
Stage Manager: Eve Gertzman
Dates & Tickets
February 28 - March 5
All shows at 8pm except Sunday matinee at 2pm

Tickets are not availabile at this time
Related Articles
"Radium Girls" is a dramatization of a tragic historical event. Meg Gray '22 examines how this play captures what happens when labor rights, scientific breakthroughs, and patriarchal institutions collide.
Joe Newman-Getzler walks us through the dramaturgy and historical research that has gone into the Spring Mainstage, "Radium Girls" directed by Rebecca Marzalek-Kelly.