JKB Macbeth is Cinematic Shakespeare for the "Game of Thrones" Generation
By: Gabe Cohn '16
Midway through Macbeth's "Tomorrow, and tomorrow, and tomorrow" soliloquy, which by this point in history has been referenced by figures ranging from William Faulkner to Lin-Manuel Miranda, the doomed now-king describes a melancholy life full of "sound and fury." Like Faulkner, director Holly L. Derr has seemingly isolated the sentiment, creating a strong sense of atmosphere and foreboding with her production, which takes place on the mainstage of the Janet Kinghorn Bernard Theater.
This sense of atmosphere is felt in full force during the aforementioned speech, spoken here with controlled and understated intensity by Woodrow Proctor '16. In one of the production's signature moments, Proctor delivers the monologue lit only by a single beam of light concentrated on his face, as if peering through a large keyhole. Lighting Designer Jared Klein's decision to present the speech in this way not only provides the audience with unexpected eye candy, but plays into what comes through as one of the production's chief experiments: using technology to achieve an unprecedented sense of the supernatural.
In the play's prologue, the three witches (Ziggy Schulting '18, Katie Jacobsen '18, and Bianca Thompson '19) pace around the stage holding ethereal balls of light, their voices made inhuman by an overwhelming echo effect. The mystic world—an ancient future—that the production creates is due in no small part to the sound design by Max Helburn '18. The witches' costumes, earthy brown and moss-covered, with a tangle of branches coming out of each of their heads, give them the look of wood nymphs. Elsewhere in the production, the costumes, designed by Patty Pawliczak, trace the arc of the play; when Macbeth enters he is dressed in a soldier's chainmail, followed by increasingly lavish and colorful garb as the great anti-hero slaughters his way up to the throne.
At every step of the ascent, Macbeth is goaded, and often seduced by, a powerful Lady Macbeth (Rigel Harris '16), whose power over him here takes on an intensely sexual dynamic. In one of the production's most shocking moments, Lady M ends a scene by violently shoving her husband's head into her crotch. Big choices like these build up the character for a bigger fall, of course, and Lady Macbeth's sleepwalking monologue (which Harris tackles as if born to deliver it) becomes an even farther fall from grace—literally, as a smoke-filled trap door on stage becomes a visual representation of damnation.
Every event that happens, of course, is foreshadowed by the three witches' prophecies. In this production, though, the deceitful and omniscient witches are shown to be servants of a fourth supernatural figure: a mystical housekeeper (Mira Lamson Klein '18) who, as a combination of several characters from the original text (most notably, the Porter), is shown to be something of a boss to the witches, orchestrating their every move and using them as her puppets. Appropriately, a literal representation of puppets in also present—Puppet Designer and Skidmore alum Jessica Lorence (of Little Did Productions) contributed actual puppets to the production, who spring out of the witches' cauldron as apparitions to deliver Macbeth's final prophecy, the one dictating that none "of woman born" can kill him. The puppets, as a non-living, direct representation of the fantastic, become the ones who spell out Macbeth's ultimate doom.
The production's most radical choices, though, are in gender. A female actor plays a male character (Sarabell Wrigley '16 as Duncan), and several originally-male characters have been re-written as female (Evy Yergan '16 as "Malca," Kate Glowatsky '16 as a female Ross, and Madeleine Emerick '16 as a female Macduff). This rearranging of gender brings new dimensions to the story. When Macduff says of her family's murder "I must feel it like a man," the implications are layered to create new resonance. The same can be said of Yergan's Malca—Shakespeare's Malcolm becomes instantly more complex when the female Malca becomes king in Elizabethan Scotland.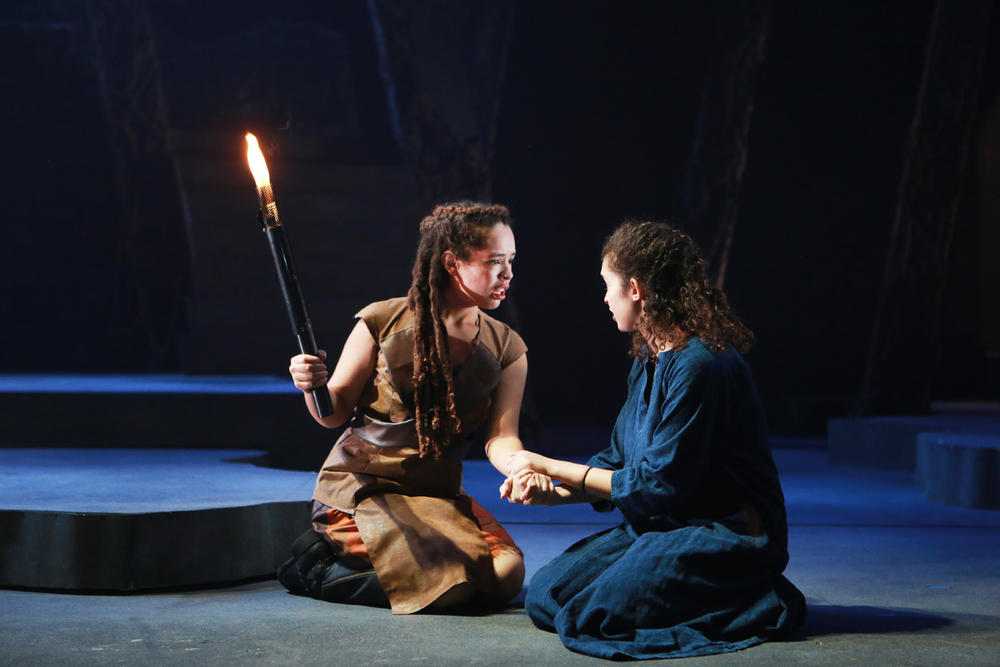 The effect of all this is to create a unique telling of Macbeth. Clocking in at just over two hours, Derr's production makes significant cuts to quicken the story's pace, which combines with the sound and lighting to solidify the cinematic, big-budget action movie feel of the production. When a long sword battle ends with Macduff finally defeating Macbeth via a gruesome strangulation, all of the production falls away. The killing happens as far backstage as possible, and all sound amplification and ethereal lighting disappears. Left with nothing but the distant sounds of a dying villain, we realize alongside Macbeth himself that—for all the sound and fury—the real tragedy here is the death of humanity.  
Gabe Cohn is a Senior English major and Editor-in-Chief of the Living Newsletter. He has also recently contributed to Saratoga Living and Nippertown.
Production Photos
Reflections From the Cast + Crew
Hannah Baker '16 (Assistant Director): As an assistant director, I had the pleasure of working closely with many of the actors, helping them with the process and collaborating to make new discoveries about the show. I had the opportunity to grow as a director by addressing challenges and finding creative solutions. A production of this scale cannot be done without hitting a few snafus here and there, but the hard work and problem solving helped all of us grow into more experienced and dedicated theater artists.
Theo Saroglou '16 (Assistant Director):
Macbeth has taught me how to honor the rules of the show. As an assistant director, I had to work within the directorial choices that Holly took, which allowed for a deeper investigation of the script and the world of the play. Although it might seem confining, this approach was actually liberating both for me and the actors. 
Kate Glowatsky '16 (Actor, Ross):  This was definitely the largest, most epic production of this show that I've worked on. It was an absolute treat to get to work on such a different adaptation of Macbeth; it's really exciting to get to see what different directors and actors find to be the most important themes and ideas of the piece. Our production's particular attention to magic and the supernatural allowed for questions to be asked that led to some really interesting choices that I had never encountered before. The Shakespeare Programme helped me to craft skills that definitely came in handy working on this production, and I'm very thankful to have had these opportunities.
Max Heburn '18 (Sound Designer): The trick with Shakespeare is making it feel new again. Right before I started putting sound cues together, I was in a music tech class talking about psychoacoustics, and we were looking at this thing called a "Shepard tone." It's like this really unsettling noise that sounds like you're falling, but the noise never resolves itself—it sounds like you're falling forever. I heard it and knew it would work for Macbeth; it's familiar but at the same time odd. It plays a trick on your mind. I mixed that in with some other sounds to help create the supernatural world of our production.
Sydney Tennant '18 (Actor, Lady MacDuff): Macbeth was probably the most exhausting performance I've ever worked on, in the best way possible. I think Shakespeare demands an emotional and physical commitment that most productions do not. The cast rose to the occasion and supported each other while trying to grapple with one of the most performed and celebrated plays of all time. I adored [them] and felt as if we really bonded in a way that many casts do not. 
Ziggy Schulting '18 (Actor, Witch #1 and Witch Choreographer): I came in with a ton of ideas and then sort of asked Holly which direction she thought we should go in. After getting her input, I would ask the witches to meet for witches-only rehearsals and try different stuff out. Instead of making the dances very choreographed and dance-y, I think it was more important to me that the witches came up with a vocabulary of movement that was specific to them, so that an audience member could look at them and go, "I'm not sure what they are, but they are clearly a unit, and they are clearly other worldly from the other characters of this play world".
Read thoughts from Woodrow Proctor '16 (Macbeth), Rigel Harris '16 (Lady Macbeth), and more actors in our recent Macbeth Cast Q&A article.
Macbeth Credits
Director: Holly L. Derr
Assistant Directors: Hannah Baker '16 and Theo Saroglou '16
Scenic Design: Garett E. Wilson
Lighting Design: Jared Klein
Costume Design: Patty Pawliczak
Sound Design: Max Helburn '18
Hair & Make-Up Design: Alyssa Hagerbrant '16
Fight Choreographer: Douglas Seldin
Puppet Design: Jessica Lorence
Cast: Sarabell Wrigley '16 (Duncan), Evy Yergan '15 (Malca), Zoe Lesser '19 (Donalbain), Woodrow Proctor '16 (Macbeth), Matt Beckstrom '16 (Banquo), Madeleine Emerick '16 (Macduff), Zachary Cohn '16 (Lennox), Kate Glowatsky '16 (Ross), Madison Caan '17 (Caithness), Michael San Roman '17 (Fleance), Serena Lehman '19 (Boy/English Soldier), Mira Lamson Klein '18 (The Housekeeper), Rigel Harris '16 (Lady Macbeth), Sydney Tennant '18 (Lady Macduff), Ziggy Schulting '18 (Witch), Katie Jacobsen '18 (Witch), Bianca Thompson '19 (Witch), Emily Cross '19 (Gentlewoman), Kirsten Mulrenan '18 (Gentlewoman), Emmy Kuperschmid '16 (Murderer 1/English Soldier), Philip Merrick '19 (Murderer 2/Scottish Soldier), Edward Randel '19 (Edward), Lily Kamp '18 (English Soldier), John O'Hara '16 (Scottish Soldier), Billy Winter '18 (Scottish Soldier), Marcus Tweedy '19 (Scottish Defector)
Production Team: Michaela Whiting '16 (Stage Manager), Kira Geary '18 (Assistant Stage Manager), Christopher Monaco '18 (Assistant Stage Manager), Rosa Desmond '16 (Assistant Director), Peter Kaouris '19 (Assistant to the Director), Thomas Chandler '16 (Assistant Scenic Designer), Catherine Heller '17 (Assistant Scenic Designer/Scenic Charge), Mackenzie Whiting '16 (Assistant Scenic Designer),  Mackenzie Whiting '16 (Scenic Charge), Thomas Chandler '16 (Props Coordinator), Arelis Cruz '17 (Assistant Costume Designer), Omi Furst '18 (Assistant Costume Designer), Julia Kelliher '18 (Assistant Costume Designer), Leah Mirani '18 (Assistant Costume Designer), James Sutherland '19 (Armor Designer), Chloe Brush '18 (Assistant Lighting Designer), Madeleine Emerick '16 (Assistant Fight Choreographer), Gillian Leffler '19 (Blood Captain), Rowen Halpin '19 (Run Crew), Callum Lane '16 (Run Crew), Lizzie Madloch '19 (Run Crew), Kate Greenberg '19 (Light Board Operator), Nina Slowinsky '19 (Sound Board Operator)
All photos appearing in this article taken by Sue Kessler. Property of the Skidmore Theater Department.
Related Articles
A Q&A Session With the Cast of Macbeth
Video Interview With Macbeth Puppet Designer Jess Lorence